Decoria Painting and Quality Workmanship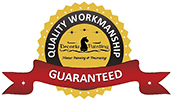 The majority of our painting works are gained through client recommendation, so it is vital that we maintain standards, to ensure each client is satisfied with their completed painting job.
We kindly encourage you to have a look at our strong local testimonial letters so that you can get the honest and authentic feedback on the Decoria Painting team. Our painters are work dedicated, trustworthy and are well-mannered professional painters. Because we respect and value your property, you and your family will feel comfortable with having us at your house or commercial space.
Our knowledge and extensive experience in the painting trade; along with the professionalism of our Perth painters and work ethic, has led to a large number of satisfied clients.
Registration with Building Commission of WA

Decoria Painting is registered with the Building Commission of WA a testament to our competence in the painting industry.
In order to carry out painting services in Perth in Western Australia, approval from the Building Commission is essential. This is obtained through the completion of professional courses, set theoretical and practical exams and significant proof of experience in the industry.
Our knowledge and understanding of Australian standards is crucial when choosing appropriate products, in the surface preparation work and application of undercoats and final paint finishes.
Dulux Australia Accreditation – 2015
Decoria Painting has been recognised by Dulux Australia as professional painters in Perth. We have been successful in meeting all of Dulux's strict criteria in terms of professionalism in dealing with our customers, and demonstrating high quality workmanship as a provider of residential and commercial painting services.
Decoria Painting is highly reliable and respectful to both the customers and their properties. In conjunction with our skills and knowledge in the field of professional painting, we use premium materials to provide the highest possible level of service in the industry.
We pride ourselves on being acknowledged as leaders in painting Perth by Dulux Australia as it shows our commitment and engagement in all aspects of the profession. This includes the quotation process, colour consultation, compliance with all safety regulations, and the final product which results in beautiful, high quality jobs.

In-home colour consulting is a part of many painting projects we take on.
After the successful completion of Colour Consultancy Course at International School of Colour and Design in Sydney we have gained professional knowledge to provide our customers with comprehensive and reliable advice on the right colour scheme for their painting project.
Additionally, in October 2014, in order to improve our services we offer, Decoria Painting attended Dulux Colour Essential Course which has been jointly developed by Duluxgroup Australia, The Training Academy and International School of Colour and Design (ISCD). This training program involved workshop style activities and discussions that center on all aspects of colour.
We aim to assist our customers with more accurate and efficient colour selection and matching techniques as choosing the proper hue is one of the most important and emotional elements when decorating your work or leisure space. We understand deciding on the right shade is extremely difficult as there are many things to consider such us: furniture, flooring, amount and type of light, environment etc.
In order to help our clients with transforming their properties the way they want it we provide you with professional Dulux World of Colour swatches, catalogues and relevant information and what's even more important – with free paint sample pots if required. That makes your choice much easier as in most cases we can literally try out the colour on the wall. This way we can avoid your disappointment and make sure you will feel comfortable with the new space.
Full Public Liability Insurance

Your safety is our priority when we work, however, due to the nature of some aspects of the painting work (ie: scaffolds, electrical equipment) there is always the potential that something may happen. In the unlikely event that an accident does occur, your family and your property are protected by Decoria Painting's Public Liability Insurance.
We have invested in a comprehensive policy to provide you with the peace of mind while we work.